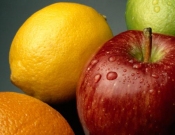 CMS Weight Loss Solutions
Fitness Centers often focus on exercise alone as a way to improve their clients' health.  However, research has proven that in order to facilitate permanent weight loss, fitness and nutrition must go hand in hand.  The National Weight Control Registry found that for successful weight loss and maintenance:   2% were successful by exercise alone,  8% were successful by diet alone,
     89% were successful with a combination of diet and exercise
Hi, my name is Jeannine Groll, CMS Weight Loss Solutions Program coordinator.  As a club owner and registered dietitian I, like you, have struggled to find a successful weight loss program that works for me and my clients.  We all know a large percentage of members join to lose weight.  Many get discouraged when this does not occur through exercise alone.  By helping our clients succeed in their goals, we will increase retention, increase referrals, add value to our services, and develop a secondary income stream. For this reason we have provided two proven options for you to provide a weight loss solution in your club.
OPTION 1:  (FREE TO CMS CLIENTS AND HEALTH COACHES)
By combining a simple traditional healthy lifestyle and portion control program (Balanced Plate) with a medically based meal replacement program (Take Shape For Life) for those needing or seeking more rapid weight loss, we have been getting wonderful long-term results, satisfied customers, better member retention, and increased club profitability. Here's how it works. 
Step 1- The Balanced Plate Method: This easy to use personal or group program allows members to lose weight without calorie, fat, or carb counting.

 

By simply balancing their plate with Vegetables, Meat, Grain, Dairy, and fruit following the recommended servings they will consume approximately 1400 calories for women and 1800 calories for men.

 

A sample meal plan is provided along with serving size guides and list of high nutrient dense foods. Adjustments can be easily made for different calorie levels. Weight loss is anticipated at 1-2 pounds per week
 Step 2- Take Shape for Life: This optional program is ideal for those that want to safely accelerate weight loss and have the convenience of pre-balanced foods.

 

Created by doctors and used successfully for over 25 years, this is a proven and effective weight loss and maintenance program.

 

Weight loss is anticipated at 2-5 pounds per week.  The simple 5 and 1 plan allows 5 pre-packaged balanced meals along with 1 lean and green meal that they prepare using   vegetables and lean meats.

 

The products are drop shipped to the client and the club/trainer makes 20% on each order (initial investment required).
Additional Free Resources: 
 Website service for the club, trainer, and client:  You can train yourself and clients on either program above along with a multitude of topics essential for a healthy lifestyle.

 

These include nutrition, behavior techniques, exercise, and more.

 

Simply  click on the Program links for access to all our program resources.

 

Download nutrition presentations, lesson plans, and handouts ready to use for classes or clients.

 

Also links will be provided to order material and to other important weight loss sites.
 Power Point Presentations: Ready to use presentations makes it easy to hold information sessions to educate your clientele and promote your programs.

 

Presentations also may be used to hold support group sessions or weight loss classes.
Ask an Expert: Not sure how to answer a nutrition question such as what type of artificial sweeteners are safe?

 

Ask an Expert allows you to e-mail your questions to a registered Dietitian, Personal Trainer, and Certified Health Coach and get a response within 24 hours.

 
Live Nutrition Seminars:

 

Join us for live 15 minute seminars on pertinent topics regarding nutrition and exercise.

 

These will be archived for easy access at any time.
CLICK ON THE TABS AT TOP OF PAGE TO GET MORE INFORMATION
OPTION 2:     Branded Weight Loss Center
 For those seeking a more robust offering, we recommend "Thin and Healthy's Total Solution", a turn-key, program licence to join a national chain of proven weight loss centers, both stand alone and in fitness centers. This program requires an initial investment and monthly licence fees that includes complete training and implementation, regular supplemental programs including management and marketing support.